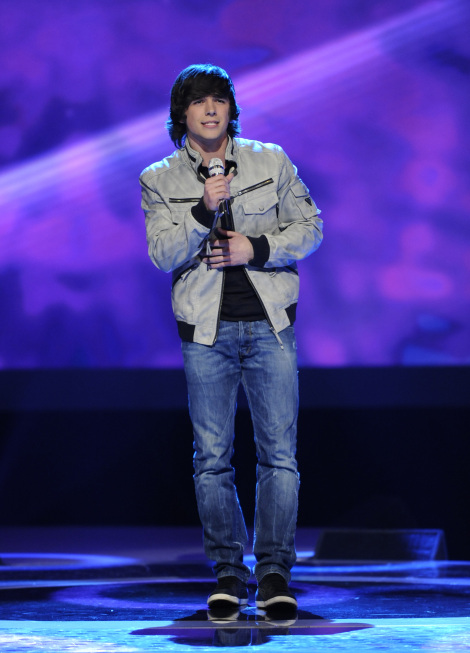 It hurts to hear, doesn't it, Tim?
Alicia Keys mentors the final 7 in the ways of inspirational, off-pitch singing. I can't wait. So I won't.
Casey James
"Don't Stop Thinkin' About Tomorrow," complete with Huey Lewissian grit, Marty McFlyesque guitar solos, and Man-Barbie dreaminess. It started weak and pitchy and just fizzled out in a whimpering pile of yeah-yeah-yeah's. Inspire-o-meter: 5
Odds of Going Home: a very sad 4 to 1
Lee DeWyze
The unpolished throaty wailer takes on a really curious choice of song from a clean-cut perfectionist of a musician, Paul Simon. "The Boxer" is not what I think of when the Inspirational genre gets discussed, but he did alright with it. I kind of wished he had replaced the lai-la-lai's with "Lee DeWyze, Lee DeWyze, Lee-Lee DeWyze," but he probably made the right call. Inspire-o-meter: 7
Odds of Going Home: 13 to 1
Tim Urban
Is Tim going to give the best performance of Inspiration Week? Oh . . . no, no, not at all. I don't know what exactly you said to him, Alicia, but I think it may have been just the thing to get rid of this kid. His rendition of that silly little Goo Goo Dolls song was definitely not goo-good. Two words: Sha. Ky. Inspire-o-meter: the singing is a 2, but the fact that he is very likely going home is a 10.
Odds of Going Home: 3 to 1
Aaron Kelly
Aaron < R. in the battle of the Kellies. When I hear a 16 year old is taking on R. Kelly, I get a bad case of the heebie jeebies, I'm not gonna lie. Aaron's singing didn't help. If you believe it, you can achieve it? Hmm . . . I don't know how well you believed it. The judges, at this point, are trying to salvage the integrity of the show by being nice to these people, but this season is a disaster. Inspire-o-meter: 4
Odds of Going Home: Justin Bieber to Reality
Siobhan Magnus
Mariah
and
Whitney in one song? I hope you brought your claws, Siobhan, because one of those two ladies is bound to rush the stage and Kanye you into next week. All joking aside, this was a terrible song choice and a pretty boring performance. Without the intrigue of hitting the high notes, the song is completely without quirk, so Little Miss Quirky really should have picked something else and skipped the NyQuil bottle I have to assume she chugged before hitting the stage. Although it is pretty hilarious to say Siobhan is being too dramatic on Inspiration Night. Inspire-o-meter: 4
Odds of Going Home: 4 to 1
Michael Lynche
Remember when Chad Kroeger took an artistic break from the indie/alt-rock shackles of Nickelback and really let the art of Spider-Man consume him? "Hero" was not a great song for Michael. I thought maybe he could breathe life into it in an Andrew Garcia "Straight Up" kind of way. But it made him sound like a vocal lightweight. You really don't want to leave people thinking, "Well, he's not Chad Kroeger." Okay, maybe you do, but not in the way we were thinking it. Inspire-o-meter: Nickel
Odds of Going Home: Scary
Crystal Bowersox
Well, Crystal you really had to hear and see. Her "People Get Ready" was pretty much just a warning that the tears were a-comin' for her and for you. Pretty amazing. Inspire-o-meter: Damn, girl.
Odds of Going Home: Nil