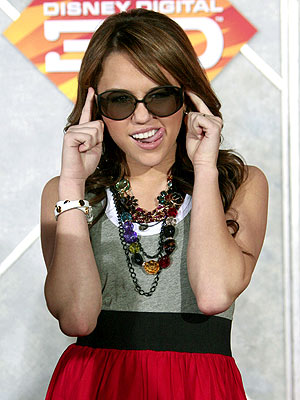 I don't know if Miley Cyrus is a genius in real life, but for this morning she's a genius on my iTunes.
As the title of the post would immediately suggest, you can dispense with any artistic pretense right away (and, believe me, there is nothing more fun and freeing than dispensing with artistic pretense). Yes, I have Miley Cyrus on my iTunes.
I made a birthday mix for my fourteen-year-old niece, and she loves Miley Cyrus. So I gave her a shot of the world's perkiest mega-starlet and her cover of Cyndi Lauper's "Girls Just Wanna Have Fun." This morning I was doing a bit of iTunes housekeeping and arranged all my tracks by Date Added. Then a thought struck me: why not create a Genius mix out of Miley?
Fortunately, it wasn't the bulkiest thought in the room, so it struck me with the weight of a gliding feather. But I still pursued it, and I have to say, the results pleased me. It's a fun list, and it's making for a delightful, carefree Monday morning.
That's all. Thank you, Miley. Thank you, too, Mackenzie. Happy Monday. Oh, and here's the playlist:
Note to self: make default length for Genius playlists much shorter. Whew!